CONSPECTUS

BREAK [SLOWLOOP-04]
2013, HD, 13'33'', NO DIALOG, STEREO, COLOR, 16:9
Eine Doppel Diaprojektion* mit 116 Bildern. Unterschiedlich stark rauschende Meereswellen, dazwischen Bilder pathetischem Liebesglücks, hinzukommend direkte Darstellungen menschlicher Sexualität, dramaturgisch abwechselnd, ansteigend prosaisch. Im Off ein Soundteppich aus rhythmisch klackenden, rauschenden Projektoren unter einer sonoren, stetig lauter werdenden Audio-Collage einer verzweifelt anflehenden Bitte. A Love Porn Farewell Slide Show Short.
A double slide projection* with 116 images. Varying degrees of roaring ocean waves, in between pictures of pathetic love, as well as representations of human sexuality - dramaturgically alternately and rising prosaic. Concurrently a sound of rhythmically clicking, rushing projectors under a sonorous, crescendo audio collage of a desperately imploring request. A Love Porn Farewell Slide Show Short.
* "Don't Go Breaking", 2012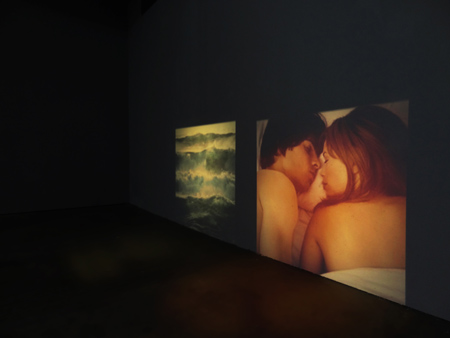 "Ein Abgesang auf die Liebe – drastisch, lehrreich, herzzerreißend. This is hardcore."
Judith Funke, Kasseler Dokfest
"One film in particular stood out (although there were so many good ones, it's a shame I can't mention them all) – and that was Nicolaas Schmidt's "Break": a 13-minute short of two side-by-side walls with images projected onto them. The images were either ocean waves or Instagrammed (bear with me, this did NOT turn out as hipster-ish as it sounds) photos of happy, mostly beautiful couples, whose kissing and cuddling eventually turned into full-on hardcore penetration. All the while (for the whole 13 minutes, mind you), a slowed-down version of "Don't Go Breaking My Heart" played to the images. I felt confused, I felt angry, at one point, the combination made me feel physically ill: all good signs that this was THE one. It was confirmed during the Q&A when the awkward director stood in front of the audience to field thoughtful questions from programmer Jochen Werner. Schmidt proceeded to tell us that the whole thing was a love story. God, I love truly fucked-up people."
Walter Crasshole,
Exberliner
"Schmidts Arbeit "Break" versammelt Bilder heterosexueller Paare – Aus Pornografie, Werbespots und Magazinen. Das Sinnbild und vermeintliche Ideal der 'ewigen Liebe' manifestiert sich dabei in postindustriellen Narrativen, die in Schmidt's Arbeiten eine unheimliche Gleichzeitigkeit zwischen Melancholie, Sentimentalität und latenter bis manifester Gewalt kreieren. "Break" formiert sich so als doppelschneidige Video-Collage, die sich aus biopolitisch-normativen Gewaltsnarrationen wie aus symbolhaft-metaphorischen Darstellungen des romantisierenden Ideals heteronormativer Monogamie zusammensetzt.
Schmidt gelingt es, eine ganz offenkundige Asymmetrie zweier Realitäten zu zeigen, die der gleichen Welt synchron angehören. Eine dramatische Melancholie der Arbeiten ergibt sich aus dem Auseinanderfallen der Bildkontexte und -Narrative: Wir wissen, dass viele der schonungslos dargestellten Szenerien in objektiver Hinsicht gewaltsam sind, begreifen sie affektiv wie kognitiv; gleichzeitig antworten wir auf das dargestellte Andere – das romantisierende, heteronormative, dyadische Ideal auf der Gegenseite – emotional, nostalgisch, idealisierend.
Insgesamt erwirkt das Auseinanderfallen der Bildkontexte bei Bewusstsein ihrer Gleichzeitigkeit eine reflektive Distanz zu den Arbeiten – die Anordnung zweier inkommensurabler Narrative produziert eher etwas Objekthaftes als eine objektiv erscheinende Repräsentation der Realität. Die Arbeiten lassen also insgesamt Distanznahme wie emotionale Involviertheit zu und spielen mit der Interaktion zweierlei Affekte, die eine übergeordnete Reflexion des Dargestellten ermöglicht."
Anna-Verena Nosthoff,
DAREmag