RATHER BLACK   [SCREEN]
FIRST TIME
[THE TIME FOR ALL BUT SUNSET – VIOLET]
2021, 2K DCP, 4K, 50', NO DIALOG, 5.1, COLOR, 1,85:1
We listen to music and are on the way. In doing so, we see things and the world differently than before. So that things don't always go on like this, but may become better:
Two boys meet on a train ride. Something is born – not much and yet everything.
Enjoy a Golden Hour Carousel Ride.

A boy is sitting at the window of the Hamburg U3 circle line subway. He looks into the setting sun with closed eyes, orange-red glowing through both eyelids. Passengers go and come – one sits down. The two sit silently across from each other, neither of them getting off the train.
The circle line runs once around the city. Station after station. The light is alternating outside and inside. Passengers and protagonists are amid noise and music. Glances, silence, a KitKat is broken, a Coke is drunk. Outside: Sunset&Nightfall are interrupted again and again by tunnels, platforms, posters&facades. The train passes the boarding stop again. The timeline of love could be a circle.
Enjoy a Golden Hour Carousel Ride. A Common Sensations Music Movie.

"And baby when I met you, every feeling I had was new,
I don't think there are words to describe the sensations, oh no no no"
(Coca Cola Commercial 1988, Robin Beck - First Time)
"FIRST TIME" is a Cross Documantary Experimental Concept Fiction made for Cinema, the prequel to "
FINAL STAGE
" and/or Episode "VIOLET" of "ENDJOY [The Time For All But Sunset – VBGYOR]".
Wir hören Musik und sind auf dem Weg. Dabei sehen wir die Dinge und die Welt anders als zuvor, damit es nicht immer so weitergeht, sondern besser werden kann:
Auf einer Bahnfahrt begegnen sich zwei Jungen. Es entsteht etwas – nicht viel und doch alles.
Ein Junge am Fenster der Hamburger Ringbahn. Er schaut mit geschlossenen Augen in die untergehende Sonne, orange-rot leuchtet sie durch beide Lider. Fahrgäste gehen und kommen, einer setzt sich. Schweigend sitzen die beiden einander gegenüber, keiner von ihnen steigt aus.
Die Bahn fährt einmal rund um die Stadt. Station um Station. Das Licht verändert sich außen und innen. Passagiere und Protagonisten inmitten von Noise und Musik. Blicke, Stille, ein KitKat wird gebrochen, eine Coke getrunken. Draußen: Sunset&Nightfall immer wieder unterbrochen von Tunnels, Bahnsteigen, Plakaten&Fassaden. Die Bahn passiert erneut die Einstiegs-Haltestelle. Die Zeitachse von Liebe könnte ein Rund sein.
Enjoy a Golden Hour Carousel Ride. A Common Sensations Music Movie.
Die Vorgeschichte zu "
FINAL STAGE [The Time For All But Sunset - BGYOR]
".
"And baby when I met you, every feeling I had was new,
I don't think there are words to describe the sensations, oh no no no"
(Coca Cola Commercial 1988, Robin Beck - First Time)
LAURELS

"An audacious and humorous comment against the mainstream cinema and its standardized narratives, reminiscent of some of Chantal Ackerman and Straub-Huillet's formally rigorous works. And at the same time a refreshing invitation to turn back our gaze to the world around us and discover anew the cinematic treasures hidden under the surface of our uneventful everyday life. For the courage and the freedom to take us into a risky and thought-provoking journey."
Special Mention, Locarno Film Festival (Leopardi di Domani)
Jury consisting of filmmaker and artist Kamal Aljafari, producer Marie-Pierre Macia, and filmmaker, artist, curator, and Golden Bear winner Adina Pintilie

"Flackernde Schattierungen von Rot – Lichtstrahlen durchdringen die dünne Haut des geschlossenen Augenlids. Unvermittelt bricht die untergehende Sonne zwischen Bäumen und Häusern durch. In sich gekehrt, träge und doch im Fluss von Musik, Licht und den Kreisbewegungen der Hamburger Ringbahn öffnet ein jugendlicher Fahrgast behutsam seine Augen. Die vorbeiziehende Stadtlandschaft kommt zum Stehen; ein Song endet und die Szenerie kippt ins Dokumentarische bis ein attraktiver Gleichaltriger gegenüber Platz nimmt. Ein Möglichkeitsraum schimmert zwischen bedeutungsvollen oder doch nur zufälligen Gesten hindurch, zwischen hektischen Augenbewegungen, die mal Kontakt suchen, mal ausweichen. Über die Zusammenkunft der beiden Heranwachsenden und ihre fragilen Geschlechterrollen legt sich ein neuer Song wie eine verführerische Idee. Nicolaas Schmidt dehnt für FIRST TIME einen entrückten wie alltäglichen Kippmoment ins Unendliche. Dieser scheint ähnlich aufgeladen wie ein Coca-Cola-Werbespot aus den 1980er Jahren, der im Übrigen den Found-Footage-Prolog zum Film stellt. Doch während der Werbeclip normative Lebensmuster und Konsumbedürfnisse als Bedingung von Glückseligkeit kurzschschließt, schwebt Schmidt's Arbeit in Ambiguitäten: Sie feiert den eskapistischen Moment im Alltag und kritisiert dessen kapitalistische Einverleibung auf eine Art, die zugleich von Parodie und sinnlicher Teilnahme bestimmt ist."
Deutscher Kurzfilmpreis (Sonderpreis für mittellangen Film)
Jury: Jon Frickey, Anna Henckel-Donnersmarck, Florian Fischer, Maike Mia-Höhne, Gunter Deller

"A completely surprising experience, linked to the perception of a real moment of life, marked by the flow of time, exceptional music and a playful use of a Coca Cola commercial. It is incredible how, with only one fixed shot, this film is able to take root in the mind of the viewer, asking endless questions and arousing so many sensations."
Best Med-Lenght Film, Festival dei Popoli 2021
Jury: Kieron Corless, Anita Piotrowska, Luciano Barisone
PRESS REVIEWS
"First Time [The Time for All but Sunset – VIOLET] verbindet Bilder auf eine ganz einfache, einleuchtende Weise miteinander, so dass sich aus ihrer Summe Fragen ergeben."
Critic.de
(german), Frédéric Jaeger
"Ein Exkurs über das Tabu eines überbordenden Ästhetizismus, den die Kunst gern unter Kitschverdacht stellt. Und doch fühlt man sich an eine Zeit erinnert, als man noch von Experimentalfilm sprach, aber damit Abenteuerlust verband und Reisen ins Unbekannte."
Frankfurter Rundschau
(german), Daniel Kothenschulte
"Den Zugriff auf Zeit und Ort mit jeder Minute mehr zu verlieren – auch das eine Art, den Kopf verdreht zu bekommen. Und vielleicht die schönste des Festivals."
Spiegel Online
(german), Hannah Pilarczyk
"A uniquely crafted film work done with intelligence and heart."
ubiquarian.net
(english), Marina D. Richter
"The film is proof that if you have some form of tension at the heart of a movie, you can easily stretch conventional cinematic patience. […] FIRST TIME provides an experience both emotionally and intellectually stimulating (as well as being rather funny)."
dmovies.org
(english), Redmond Bacon
"Nicolaas Schmidt Crafts a Mesmerising and Minimalist Work of Sly Romance in Arthouse Drama 'FIRST TIME'."
Redmond Bacon,
directorsnotes.com
(english)
"The very best film of this edition of Locarno"
Le Polyester
(français)
"In this minimal love story, the look out the window on the metropolis, the soundtrack of the film and two lonely teenagers are condensed into a social critique."
Paeseroma
(italiano), Marcello Strano
"Within the film, the filmmaker cleverly and elegantly plays and mixes the musical element with a rather fashion photographic and scenographic aesthetic, all to go and tell a minimal and intimate story."
L'Occhio Del Cineasta
(italiano)
"Schmidt zelebriert die radikale kinematografische Reduktion förmlich, First Time ist alles andere als konformistischer Kitsch:"
Eine Erzählung gegen klassische Narrative
, Jens Balkenborg für Lerchenfeld (german, PDF 300kb)
"[...] FIRST TIME is a film made up of possibilities, and by laying them all out so plainly it makes a strong case for acting upon one's own desire rather than letting the moment pass."
C.J. P.,
thefilmstage.com/the-best-undistributed-films-of-2021
"What if Before Sunrise, but Tsai-Ming Liang? Almost nothing 'happens' in this film about a chance encounter between two strangers on a subway train, yet everything changes by the end of the journey. With radical minimalism Schmidt observes the hectic rush of city life and captures the tender, quietly monumental start of a romance. Despite the complete, unchanging passivity of perspective there's true musicality to the mise-en-scène that builds momentum and sings what's left unsaid. The work of an original."
Zhuo-Ning Su's Top 10 Films of 2021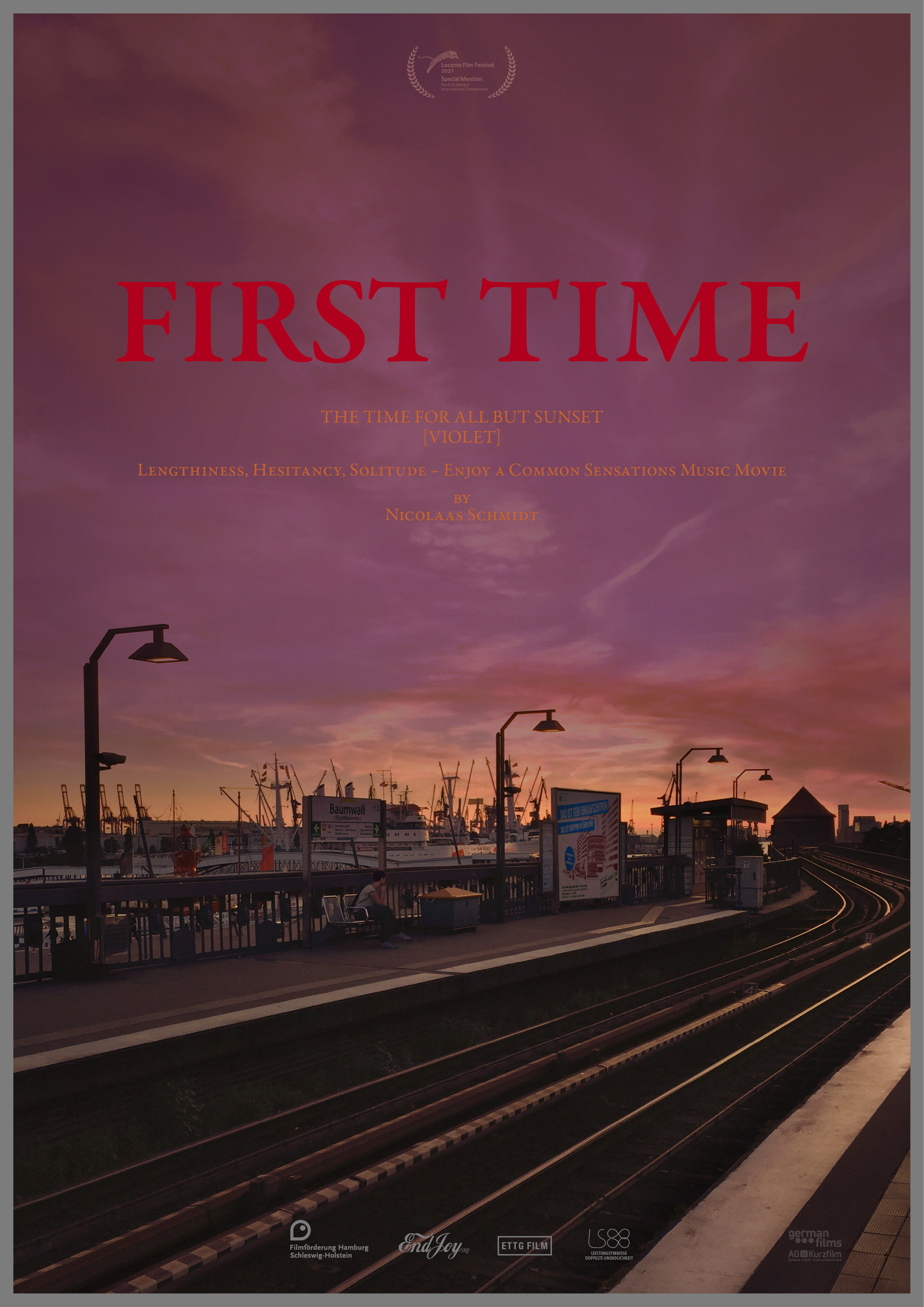 CAST/ STAB
Aaron Hilmer (Ray)
2019: Bunte New Faces Award - Bester Nachwuchsdarsteller
2018: Günther Rohrbach Filmpreis - Preis des Saarländischen Rundfunks
2017: Das schönste Mädchen der Welt
2017: Final Stage [The Time For All But Sunset - BGYOR]
2016: Tatort - Amour Fou
2016: Einsamkeit und Sex und Mitleid
Fynn Grossmann (Pär)
2017: Final Stage [The Time For All But Sunset - BGYOR]
Szenario/Realisation/Bild/Ton/Licht/Farben/Montage: Nicolaas Schmidt
Kamera: Julia Lohmann, Nicolaas Schmidt
Dramaturgie: Anne Döring
Regieassistenz/Aufnahmeleitung/Ausstattung/Ton: Ray Juster
Kostümbild: Ada Oehrlein
Maskenbild: Miriam Endrulat
Musik: Iason Roumkos, Eduard Tokuyev, Tim Slim
Sounddesign: Nicolaas Schmidt, Iason Roumkos
Audiomischung: Roland Musolff
Produktion: ETTG FILM, Doppelte Unendlichkeit
Anne Döring, Nicolaas Schmidt
Gefördert durch die Filmförderung Hamburg Schleswig-Holstein
DOWNLOAD
Press Kit